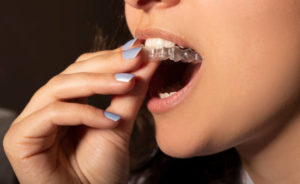 If you're ready for a straight smile, metal braces aren't your only option. Teens and adults prefer Invisalign because it's virtually invisible. A system of clear aligners can fix your bite and alignment, but there are 6 things you should know before getting Invisalign.
1. No Brackets or Wires are Necessary
Traditional braces use brackets and wires to slowly pull your teeth into alignment. Invisalign differs because your cosmetic dentist will create a series of clear plastic aligners using impressions of your mouth and advanced technology.
Each aligner applies continual pressure to specific areas to reposition your teeth gradually. You'll enjoy a comfortable, discreet solution to improve your dental health.
2. You Must Wear Your Aligners 22 Per Day
Invisalign is removable, which has its advantages. However, you must commit to wearing your aligners for at least 22 hours per day. If you don't wear your aligners long enough, it can add delays to your treatment plan.
3. You Must Change Your Aligners On Time
You'll wear each aligner in your series for 1 to 2 weeks, as instructed by your cosmetic dentist. Do not change your aligners too soon or your teeth won't have enough time to move safely. Wearing your aligners for too long can slow your treatment's progression.
4. There are No Dietary Restrictions
You don't have to worry about missing out on eating popcorn during a movie night or giving up your favorite candy. There aren't any dietary restrictions with Invisalign because your aligners are removable. Do not have anything except water while wearing your aligners. Eating or drinking with them in your mouth can cause damage and stains.
5. You Won't Need Appointments for Adjustments
Invisalign provides added convenience because you won't require appointments for adjustments since no brackets or wires are needed. However, you'll still need to visit your dentist every few weeks, so they can monitor the progression of your treatment.
6. You'll Enjoy Quick, Lasting Results
Most patients are finished with Invisalign in about 12 months, which is significantly shorter than the average treatment time with metal braces. After you finish your series, you'll require a retainer to preserve your results.
It's never too late to invest in a straight, confident smile. Invisalign is a sophisticated solution with unmatched benefits.
About Dr. Tommy Murph
Dr. Murph earned his dental degree from the Medical University of South Carolina and has regularly continued his education in advanced specialties, like dental implants and orthodontics. He is a proud member of the American Dental Association and the South Carolina Dental Association. Request an appointment through his website or call (843) 428-0231.