Dental Implants – Conway, SC
The Most Advanced
Tooth Replacement Option
Did you know that when you lose just one tooth, your jaw bone begins to atrophy? Your body reassigns the nutrients and blood flow that used to go there to another area, leaving the jaw to slowly wither away. Consequently, other remaining teeth receive less support from the jaw bone and are at an increased risk of future loss as well. In addition, because your jaw bone becomes weaker, it can also change shape to an older, more saggy appearance. Out of the replacement options, dental implants are the only one that completely resolves this problem by stimulating the jaw bone just like a natural tooth root. Would you like to know if you qualify for this advanced treatment? Call our Conway dental office to schedule a consultation with Dr. Murph to discuss to replacement with dental implants in Conway, SC.
Why Choose American Dental Care for Dental Implants?
Start-to-Finish Implant Care In-House
Nitrous Oxide Sedation Offered
Over 25 Years of Dentistry Experience and Training
Benefits of Dental Implants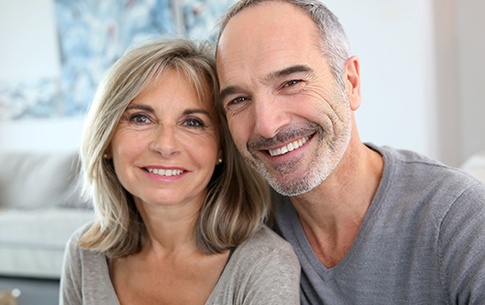 When compared to traditional dentures or bridges, dental implants have many clear advantages, including the following:
Increased stability . Instead of holding on to the surrounding teeth, dental implants are integrated into the jaw bone, meaning that you can bite and chew with the same strength as before.
More confidence . Because the dental implants are firmly embedded in the jaw bone, you don't have to worry about your replacement teeth slipping out of place.
Better protection for natural teeth . Dental implants do not impact your remaining teeth, unlike traditional bridges or partial dentures.
Longer lifespan . Whereas bridges and dentures require replacement typically around every five to seven years, dental implants can easily last over 30 years or even the rest of a lifetime!
Dental implants are a safe, reliable option for tooth replacement. In fact, 98 percent of dental implants are still successful even 10 years after they were originally placed.
Indications for Dental Implants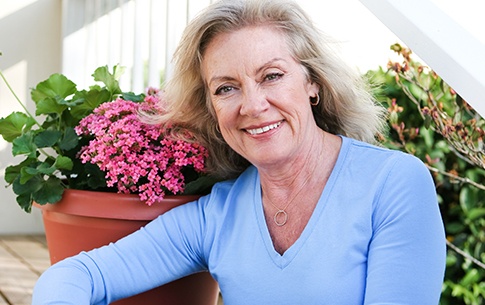 One of the amazing features of dental implants is that they can be used in basically every tooth loss scenario. Whether you need one or all of your teeth replaced, Dr. Murph can give your smile a new lease on life.
Missing Single Tooth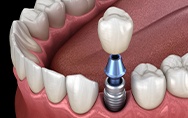 To fill in a single gap, we can use one dental implant. The post is surgically inserted into the jaw bone, where it grows and envelops the post. Once this process, called osseointegration, is finished, we'll put a dental crown on top. Although the implant is still an artificial tooth, it comes pretty close to feeling and looking just like the real thing.
Missing Multiple Teeth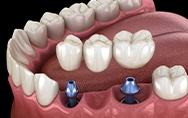 To replace more than one missing tooth, we can customize your treatment with an implant-retained bridge or implant-retained partial denture. Instead of attaching to the healthy teeth around the gaps, these restorations are anchored to two or three dental implants, providing more security.
Missing All Teeth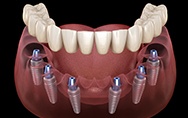 Losing every last tooth doesn't mean that you can't benefit from dental implants. Using four to six strategic implants, we can hold a full denture firmly in place. With this implant-supported option, you can enjoy a much stronger bite, allowing you to eat fibrous, nutritious foods again.
How Dental Implants Work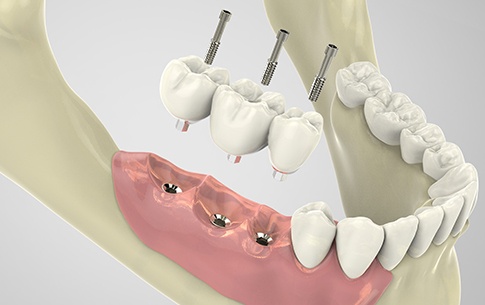 At American Dental Care, we don't have to send you to another dental office at any point in the dental implant process. Dr. Murph and our team can perform every step from start to finish right here at our convenient Conway dental office. Dr. Murph has years of advanced training and can handle the placement procedure as well as any necessary preliminary procedures. Once the post has been surgically placed, we'll wait several months for osseointegration to occur. Then, we'll attach a connection piece called an abutment and the restoration.
Understanding the Cost of Dental Implants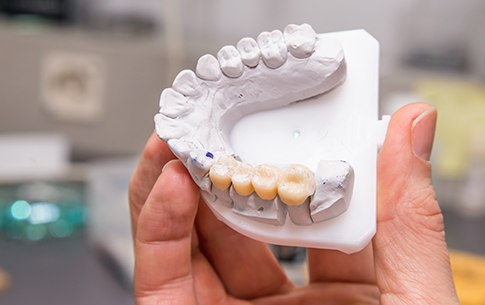 At first glance, dental implants are clearly the most expensive tooth replacement option. However, when you factor in the subsequent costs of getting a new bridge or denture every five to seven years, dental implants prove to be the wisest financial investment in the long term. When you come in for your consultation with Dr. Murph, we can determine your specific needs, including the number and location of implants, the type of restoration, and the need for preparatory procedures—all of which will influence the overall cost. When you're ready to schedule this appointment, just give our team a call!