Dental Implants – Conway, SC
The Most Advanced
Tooth Replacement Option
Did you know that when you lose just one tooth, your jaw bone begins to atrophy? Your body reassigns the nutrients and blood flow that used to go there to another area, leaving the jaw to slowly wither away. Consequently, other remaining teeth receive less support from the jaw bone and are at an increased risk of future loss as well. In addition, because your jaw bone becomes weaker, it can also change shape to an older, more saggy appearance. Out of the replacement options, dental implants are the only one that completely resolves this problem by stimulating the jaw bone just like a natural tooth root. Would you like to know if you qualify for this advanced treatment? Call our Conway dental office to schedule a consultation with Dr. Murph to discuss to replacement with dental implants in Conway, SC.
Why Choose American Dental Care for Dental Implants?
Start-to-Finish Implant Care In-House
Nitrous Oxide Sedation Offered
Over 25 Years of Dentistry Experience and Training
Benefits of Dental Implants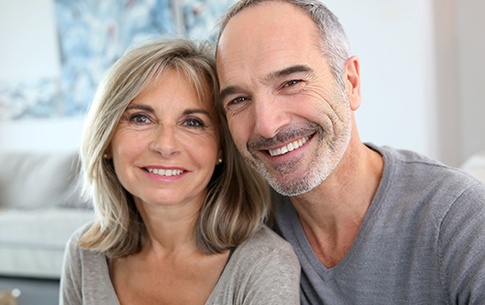 When compared to traditional dentures or bridges, dental implants have many clear advantages, including the following:
Increased stability . Instead of holding on to the surrounding teeth, dental implants are integrated into the jaw bone, meaning that you can bite and chew with the same strength as before.
More confidence . Because the dental implants are firmly embedded in the jaw bone, you don't have to worry about your replacement teeth slipping out of place.
Better protection for natural teeth . Dental implants do not impact your remaining teeth, unlike traditional bridges or partial dentures.
Longer lifespan . Whereas bridges and dentures require replacement typically around every five to seven years, dental implants can easily last over 30 years or even the rest of a lifetime!
Dental implants are a safe, reliable option for tooth replacement. In fact, 98 percent of dental implants are still successful even 10 years after they were originally placed.
Who Dental Implants Can Help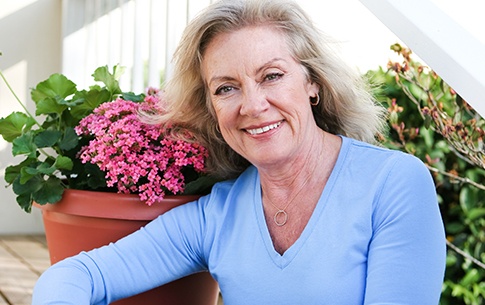 One of the amazing features of dental implants is that they can be used in basically every tooth loss scenario. Whether you have lost one, several, most of, or all of your teeth, Dr. Murph can give your smile a new lease on life. However, not everyone immediately makes a good candidate. Here's what you should know.
Who Is a Good Candidate for Dental Implants?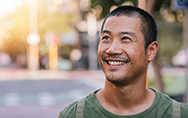 If you are a healthy adult, dental implants are likely a good option for you. Here are three of the things we consider when determining if you make a good candidate for the procedure:
Good Overall Health: Placing dental implants requires a surgical procedure, so you need to be in good enough health to undergo minor surgery.
Great Oral Health: If you have an issue like a cavity or gum disease, your dental implants are more likely to fail, so they'll need to be addressed first.
Adequate Jawbone Density: You need to have a strong jawbone to support dental implants for your treatment to be successful.
If you aren't a good candidate for dental implants right away, this doesn't always mean that they aren't an option in the future. Many patients end up needing to complete preliminary treatments, like tooth extractions, gum disease therapy, or bone grafting before getting dental implants. We can help to schedule the preparatory procedure to get you on track towards restoring your smile. Later on, we can create your dental implant treatment plan.
Missing One Tooth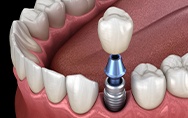 To fill in a single gap, we can use one dental implant. The post is surgically inserted into the jaw bone, where it grows and envelops the post. Once this process, called osseointegration, is finished, we'll put a dental crown on top. Although the implant is still an artificial tooth, it comes pretty close to feeling and looking just like the real thing.
Missing Multiple Teeth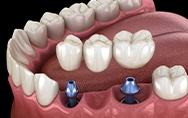 To replace more than one missing tooth, we can customize your treatment with an implant-retained bridge or implant-retained partial denture. Instead of attaching to the healthy teeth around the gaps, these restorations are anchored to two or three dental implants, providing more security.
Missing All Teeth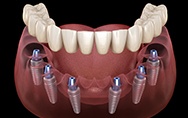 Losing every last tooth doesn't mean that you can't benefit from dental implants. Using four to six strategic implants, we can hold a full denture firmly in place. With this implant-supported option, you can enjoy a much stronger bite, allowing you to eat fibrous, nutritious foods again. (If applicable) Alternatively, you may be a candidate for All-On-4 dental implants. This method is ideal for patients who have inadequate jawbone density, possibly because they've been missing teeth for a long time. As the name implies, this option anchors a full denture securely in place with just four strategically placed dental implants.
How Dental Implants Work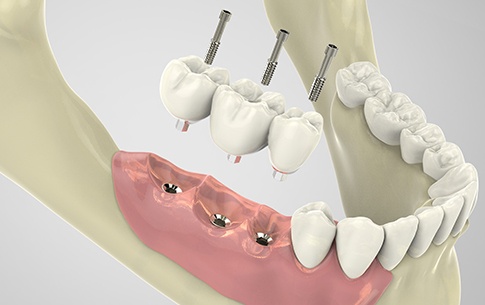 At American Dental Care, we don't have to send you to another dental office at any point in the dental implant process. Dr. Murph and our team can perform every step from start to finish right here at our convenient Conway dental office. Dr. Murph has years of advanced training and can handle the placement procedure as well as any necessary preliminary procedures. Once the post has been surgically placed, we'll wait several months for osseointegration to occur. Then, we'll attach a connection piece called an abutment and the restoration.
Understanding the Cost of Dental Implants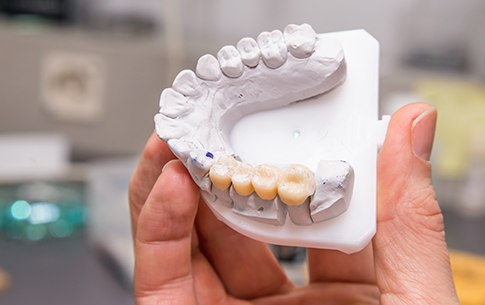 At first glance, dental implants are clearly the most expensive tooth replacement option. However, when you factor in the subsequent costs of getting a new bridge or denture every five to seven years, dental implants prove to be the wisest financial investment in the long term. When you come in for your consultation with Dr. Murph, we can determine your specific needs, including the number and location of implants, the type of restoration, and the need for preparatory procedures—all of which will influence the overall cost. When you're ready to schedule this appointment, just give our team a call!
Maintaining & Caring for Your Dental Implants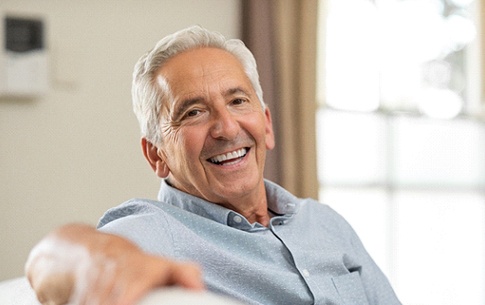 Dental implants are quickly becoming the treatment of choice for most patients – and for good reason. It's the only tooth-replacement solution capable of keeping your smile complete, strong, and healthy for a lifetime. Of course, that's only the case if you take proper care of your newly rebuilt grin. At American Dental Care, we want your dental implants to last as long as possible, which is why we've compiled a list of ways you can properly care for them. To learn more, continue reading or give our office a call today!
Make Oral Hygiene a Priority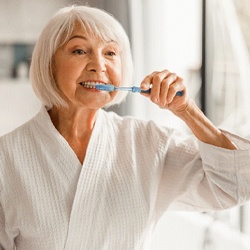 Practicing good oral hygiene is always important, whether you have dental implants or not. If you fail to take proper care of your teeth and gums, harmful bacteria can attack your soft oral tissues, potentially causing bone and tooth loss. Additionally, you could develop decay on your natural teeth. Brushing twice a day, flossing daily, and rinsing daily with an ADA-approved mouthwash are excellent practices that will help keep your smile in optimal condition.
Stick to a Healthy Diet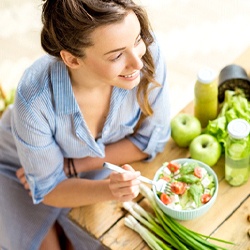 Once fully healed, you can eat almost any food you want with dental implants! However, be sure to avoid overindulging in hard, sticky, sugary, or acidic foods. They can wreak havoc on your brand-new grin and contribute to multiple oral health issues. Instead, you should eat nutrient-rich foods that will benefit your jawbone and gums, such as fresh fruits, vegetables, whole grains, lean proteins, and dairy products.
Break Bad Habits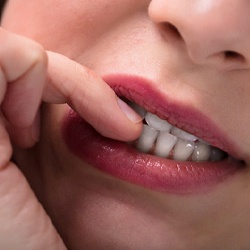 Poor habits like smoking, biting your fingernails, using your teeth as tools, and chewing on pens or pencils can be detrimental to your implants. To keep your smile safe, consider kicking these habits to the curb as soon as you can. If you need help breaking them, reach out to Dr. Murph for assistance. He can provide you with the resources, support, and guidance you need to make the feat as easy as can be.
Protect Your Dental Implants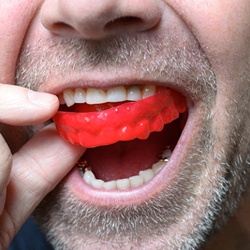 Do you regularly play sports or grind your teeth at night? If so, ask Dr. Murph about a custom-made oral device. An athletic mouthguard can keep your mouth safe against any impact should you sustain a blow to the face. Meanwhile, a nightguard will protect your enamel from the force of you grinding your teeth at night.
Schedule Regular Dental Checkups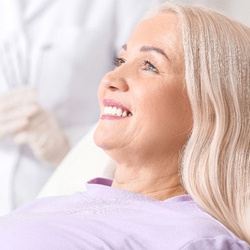 It's incredibly important that you visit Dr. Murph every six months for a checkup and cleaning to keep your smile in excellent condition. He'll conduct an oral examination, review your prosthetics, and monitor your implants to ensure no problems are developing. With his help, you can address issues early on and avoid needing more complex, expensive treatments down the line.
Dental Implant FAQs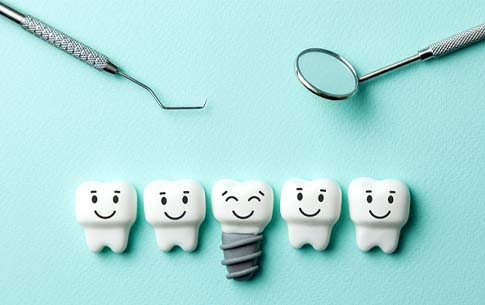 Dental implants are a preferred tooth replacement option because of their numerous benefits, but they are quite an investment, so it pays to be well-informed. Here are the answers to some of the most common queries we receive about dental implants in Conway. If you don't see the information that you're looking for below, just give us a call ! Our team would be more than happy to answer your questions and get you started with an initial consultation.
How Long Do Dental Implants Last?
The lifespan of dental implants depends on the health and lifestyle choices of the patient. To ensure that implants last, be sure to brush, floss, and rinse with a mouthwash on a daily basis. Attend dental checkups and cleanings regularly. Remember to avoid chewing on anything particularly hard or sticky and using your teeth to open packaging. With proper maintenance, dental implants can last upwards of 30 years. This is several times longer than traditional bridges and dentures.
Does Getting Dental Implants Hurt?
Your jawbone doesn't have many nerve endings, and your mouth will be numbed with a local anesthetic before the procedure begins. You will also most likely be sedated, lowering your ability to register pain. While the surgery shouldn't hurt, your mouth may be sore for a few days afterwards. Remember to take recommended over the counter and prescribed pain relievers as directed. Cold compresses can also help. If discomfort worsens instead of improving after two or three days, give us a call!
Are Dental Implants Safe?
For most patients with good health, dental implants are very successful when placed by a qualified professional. If you have low jawbone density or gum disease, these issues will need to be eliminated to make dental implant surgery safer and more successful. If you have diabetes, cancer, or other medical conditions that could make surgery or the healing process risky, we can discuss these during your consultation.
Will I Have to Take Off Work for Dental Implant Surgery?
Most patients only need to take one or two days off to get dental implants. If your job is physically demanding, you may want to take at least three to four, as heavy exercise can divert blood from the implant site and delay healing. Every case is different, so Dr. Murph will be able to give you a more specific recommendation during your consultation.