Invisalign® Clear Braces - Conway, SC
The Subtle, Discreet Way to Straight Teeth
Have you been hiding your smile because of your crooked teeth? Would you like to straighten them without having to deal with traditional metal braces? At American Dental Care, we offer an alternative for our patients: Invisalign clear braces in the Conway, SC area. The Invisalign system, sometimes referred to as Invisalign clear braces, uses a unique series of clear plastic aligners that progressively shift your teeth into the perfect position.
Why Choose American Dental Care for Invisalign® Clear Braces?
Saturday Appointments Available
Dentist with Over 2 Decades of Experience
Friendly, Skilled Dental Professionals
How Does Invisalign Treatment Work?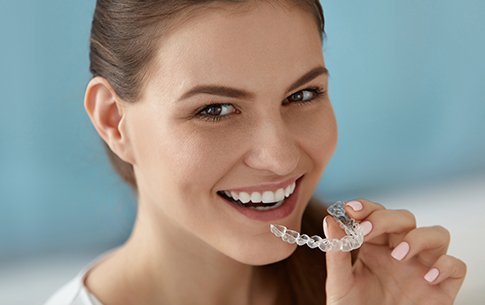 The Invisalign process starts with a consultation with Dr. Murph, who can evaluate your orthodontic needs and determine if Invisalign can help you achieve the results you're looking for. Once we decide that Invisalign is the right choice for you, we'll take impressions of your teeth, create your personalized treatment plan, and send this information to Invisalign labs for fabrication. When the first set of aligners arrives, you will wear them for 20 to 22 hours every day, removing them only to eat, drink, and perform daily oral care. In about two weeks, you'll make the switch to the next set. Every once in awhile, we'll ask you to come in so that Dr. Murph can check on your progress. After about 12 to 18 months, you'll receive a retainer that you initially need to wear just like the aligners, but eventually, you'll be able to put it in just at night to prevent your teeth from shifting back.