Restorative Dentistry – Conway, SC
Rebuilding Smiles after Damage and Decay
Despite your best efforts to take care of your teeth, damage from injury or decay can happen to your smile. Our team at American Dental Care completely understands! Here you won't find judgment, just compassionate, expert care. Dr. Murph can provide the restorative building blocks you need to recover your strong, confident smile. Do you have teeth in need of repair? Contact our Conway dental office for an appointment to discuss restorative dentistry in Conway, SC!
Why Choose American Dental Care for Restorative Dentistry?
Same-Day Dental Emergencies Welcome
Metal-Free Restorations Available
Sedation Available for Nervous Patients
Tooth-Colored Fillings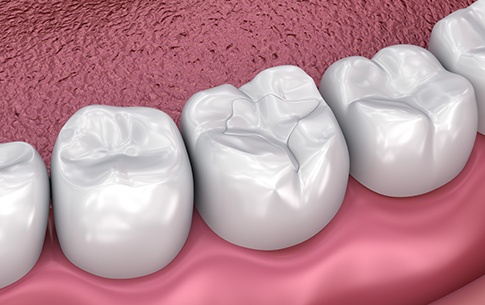 For minor cavities, we use composite resin to fill in the tooth's hole. This material is flexible and durable enough to last for about a decade, just like silver amalgam fillings, but it provides better protection for the tooth from hot and cold temperatures and preserves more natural tooth structure. Plus, as the name implies, a tooth-colored filling can be shaded to match the enamel around it, leaving you with a seamless restoration.
Learn More About Tooth-Colored Fillings
Dental Crowns
When a tooth suffers from more advanced decay or a break that can't be fixed with tooth-colored fillings, a dental crown can save the tooth from needing to be extracted altogether. Basically, this "cap," as it is also called, covers the remaining healthy tooth structure and allows you to continue using that tooth for daily functions. And what's more, Dr. Murph can make sure that your dental crown looks as lifelike as possible.
Learn More About Dental Crowns
Porcelain Inlays & Onlays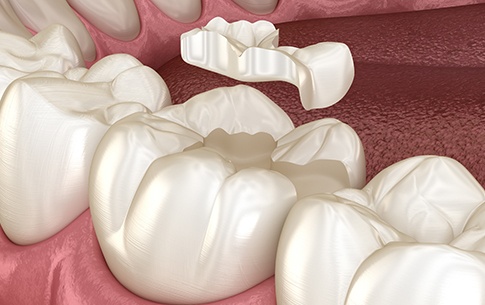 As an alternative to composite resin fillings, we can also offer porcelain inlays and onlays. These custom, ceramic restorations are extremely durable and are created to blend in perfectly with the rest of the tooth, so much that you may even forget where the original decay was located. Compared to tooth-colored fillings, inlays and onlays have been known to last twice as long and bond to and strengthen the tooth much more than composite resin.