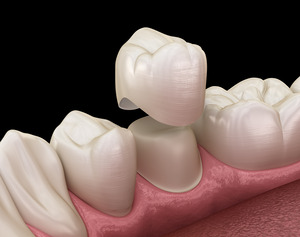 After getting a personalized dental crown, you can rest easy knowing that your tooth will be safe from further harm and that it will be strong enough to function normally again. But it's important to keep in mind that there is a short recovery period after the treatment, and you need to be prepared to take care of your mouth and your new restoration during that time. Here are some tips on what to do in the days following dental crown placement.
Dealing with Discomfort
It's not uncommon to notice some discomfort in the area where the dental crown was placed. Also, the dental cement used to attach your restoration to your tooth may irritate your gums, making them more sensitive than normal.
Generally speaking, taking over-the-counter pain medications like ibuprofen can go a long way toward keeping you comfortable while you're still healing from your dental crown procedure. You may also want to consider getting a topical anesthetic for your gums.
Call your dentist immediately if your discomfort lasts for more than several weeks; it may be a sign that some sort of complication has occurred.
Your Diet After Dental Crown Placement
Your dental crown should allow you to eat any kind of food you want without issue. That being said, it's generally recommended that you stay away from hard or crunchy foods for at least a few days. Once your discomfort has faded, you should be able to return to your normal diet.
You will need to avoid sticky foods of any kind for the first 24 hours after receiving your dental crown. This is because the cement needs time to fully harden in place; if you try to eat anything sticky before then, your restoration may be pulled off your tooth.
Oral Hygiene After Getting a Dental Crown
You should still be able to brush normally after having your dental crown placed. Pay especially close attention to the gumline around the crown; you don't want harmful oral bacteria in this area to slip under your restoration and start attacking your tooth.
You can floss as well, but you need to be careful during the first 24 hours. Avoid lifting the floss vertically so that you don't dislodge the crown by mistake. Once a day has passed, you should be able to return to your normal flossing methods.
Are you still unclear on what you should do after receiving a crown? You can always speak to your dentist to see what they recommend. Remember, keeping your crown safe means keeping your smile safe!
About the Author
Dr. Tommy Murph has been in the dental field for more than 25 years. He's the owner of Dental Development Seminars, which holds lectures and provides hands-on instruction in a number of countries. He can rebuild damaged teeth with crowns made of porcelain, porcelain-fused-to-metal, and gold. To schedule a consultation with Dr. Murph at American Dental Care in Conway, visit his website or call (843) 488-4357.