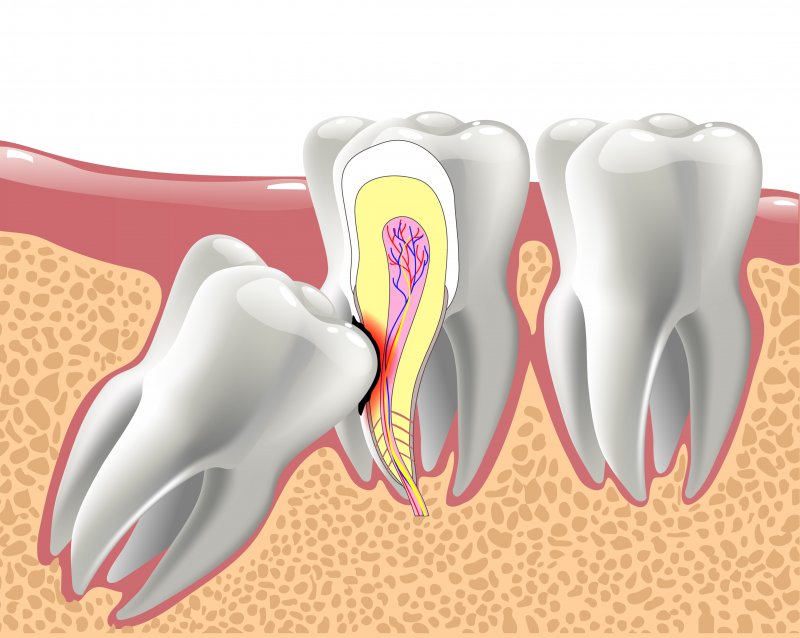 True enough, not all wisdom teeth are harmful. Some can be left alone if they have the room to erupt properly. Unfortunately, most don't have access to such space. These impacted wisdom teeth cause various health issues when untreated. As such, you should always have a dentist extract them right away. If you'd like to learn more, let your Conway dental practice help you. Here are a few negative health effects of impacted wisdom teeth that justify the extraction process.
Complications of Impacted Wisdom Teeth
When wisdom teeth lack the space to grow correctly, they can create long-term complications. The most common of these include the following:
Gum Disease
Third molars often grow at an odd angle, making them hard to clean. As a result, they can accumulate debris that puts you at risk of gum disease. Said risk usually starts with pericoronitis, an inflammation of the gums around a partially erupted tooth. Left unchecked, this condition can spread and infect surrounding gum tissue.
Tooth Decay & Damage
Beyond just the gums, plaque can also gather on an impacted wisdom tooth's enamel. This gunk can then form into hard-to-remove tartar if not addressed. From there, the plaque's bacteria can burrow into your pearly white and make a cavity. Worse yet, it can reach surrounding teeth and cause cavities in them as well.
Cysts & Tumors
If a wisdom tooth doesn't fully erupt, fluid may accumulate in a sac surrounding it. This fluid-filled sac – a cyst – can then exert pressure on your jaw, nerves, and surrounding teeth. In doing so, it might cause pain or even a jaw fracture.
Worse yet, an untreated cyst can lead to a tumor. Should that happen, you may need to have tissue or bone removed from your jaw.
See a Dentist for Wisdom Tooth Extraction
To avoid the problems above, you should let a dentist extract an impacted wisdom tooth. The treatment effectively removes the chomper to preserve your oral health.
Wisdom tooth extraction is pretty straightforward. First, the dentist will numb the treatment site with local anesthesia. They'll then make an incision in your gum tissue to expose the tooth. Once that's done, the next step is to remove the pearly white – either wholly or in separately cut pieces. Finally, the dentist will clean the site, stitch the wound, and place gauze as needed.
In the end, impacted wisdom teeth should be taken seriously. Remember to extract them quickly to prevent complications!
About the Practice
American Dental Care is based in Conway, SC. Led by Dr. Tommy Murph, our practice prioritizes a patient's dental needs. As such, we offer tailored preventive, cosmetic, and restorative work, as well as emergency dentistry services. Our office also takes pride in being a certified provider of Invisalign® clear braces and gum disease treatment. For more information or to book a visit, you can reach us on our website or by phone at (843)-488-4357.