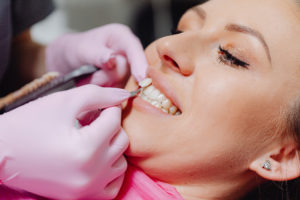 The benefits of an attractive smile are priceless, but few people have perfect teeth naturally. Not to mention, age, lifestyle habits, and other factors can take their toll on your teeth. Veneers are an excellent option to achieve the smile of your dreams. However, it's normal to have a few concerns before you're ready to invest in them. Don't worry, here are 5 facts about veneers you should know to achieve the picture-perfect smile you desire.
1. You Must Have Healthy Teeth and Gums
Your first step to a stunning smile is a consultation with your cosmetic dentist. Besides learning more about your concerns, they'll also examine your mouth to look for any untreated dental issues, like cavities or gum disease. Your teeth must be healthy, or veneers will just cover up the problems until they turn into a dental emergency. Although you may require a dental cleaning or filling, a healthy smile ensures the long-term success of veneers.
2. Veneers Fix Many Issues Quickly
Applying a veneer to the front surface of a tooth improves its color, size, and shape. However, bonding veneers to the teeth visible when smiling can correct multiple concerns at once. You won't need several procedures to address discoloration, chips, or gaps. After just 2 appointments, you'll enjoy drastic results that will last with the right aftercare, like brushing and flossing.
3. Veneers are a Long-Term Solution
Veneers provide long-term results because of the unique application process. A small amount of enamel is removed to ensure a strong bond with your teeth. On average, veneers last for about 10 years before needing to be replaced, but it's not uncommon for them to thrive for much longer with the proper care. You can get the most from your investment with a good oral hygiene routine at home and regular care from your dentist.
4. Veneers Look and Feel Natural
Porcelain makes veneers thinner than ever, so your teeth won't feel bulky or heavy. They'll fit your teeth like a glove to look natural. Porcelain closely mimics enamel, so no one will know they aren't part of your real teeth.
5. Veneers Are a Cost-Effective Option
Although veneers are associated with a hefty price tag, they can be the most cost-effective option because you won't need multiple procedures. Not to mention, many dentists accept third-party financing to keep veneers affordable. Based on your credit approval, you can pay for your new smile using monthly installments with little or no interest.
You can have a confident, beautiful smile using one of the most popular treatments in cosmetic dentistry. Find out if veneers are right for you today.
About Dr. Tommy Murph
Dr. Murph achieved his dental degree at the Medical University of South Carolina and has completed extensive continuing education in dental implants, orthodontics, and cosmetic dentistry. He has over 25 years of experience in dentistry. If you need a reputable dentist you can trust, contact our office today to request your consultation for veneers.