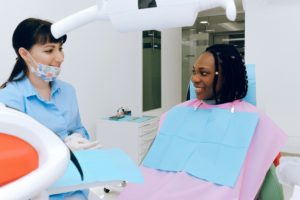 Cosmetic dentistry can create the picture-perfect smile you desire; however, it is a big investment. You don't want to trust the transformation process to just anyone. It's important to find the best dentist for your needs and expectations. Although there are many qualified dentists in the area, not all will be right for you. Don't worry, here are 7 tips to choose the best cosmetic dentist to achieve the smile of your dreams.
1. Ask Friends or Family for Recommendations
You'll find endless results when searching for a cosmetic dentist online. You can save time by asking friends and family for recommendations. You'll have a short list of potential dental offices to make your search easier.
2. Review Qualifications and Experience
Review each dentist's qualifications and experience. While many dental practices offer cosmetic services, not all dentists have completed additional training in elective procedures. Read each dentist's bio to ensure they have the qualifications necessary to achieve your goals.
3. Look for Professional Accreditations
Besides undergoing additional education in cosmetic dentistry, look for any professional accreditations. This shows the dentist follows strict guidelines to maintain their membership, ensuring you'll benefit from the highest quality of care.
4. Consider the Services Offered
Advancements in dentistry provide more options than ever to address common aesthetic concerns. Choose a dental practice that offers diverse services to find the exact treatment for your needs and preferences. You will also have more choices that fit your budget to keep an attractive smile within your budget.
5. Read Online Reviews
Take the time to read online reviews and testimonials. You'll have firsthand insight from real patients to learn more about the chairside manner, cleanliness, and satisfaction you can expect when choosing a specific dentist.
6. Review Payment Options
Many dental insurance plans don't cover elective procedures unless they are medically necessary. As a result, you will want to look for a dental office that offers various financial solutions, like third-party financing or patient specials.
7. Consider the Location and Office Hours
Depending on your treatment plan, you may require more than one appointment to revamp your smile. Consider a location that's close to your home or workplace to make it easier to maintain your appointments, so nothing delays your journey to a confident, beautiful smile.
Invest in the Best Dentist
Don't settle for anything less than the best when choosing a dentist for cosmetic dentistry. After you've found a dentist, schedule a consultation. Ask plenty of questions to ensure they are the right fit for your needs to have 100% confidence in the decision you are making for your smile.
About Dr. Tommy Murph
Dr. Murph earned his dental degree from the Medical University of South Carolina and has completed extensive continuing education in many specialties, including cosmetic dentistry, orthodontics, and dental implants. He is a member of various professional organizations, including the American Dental Association. He has the qualifications you can trust to improve your smile. Contact our office today to request your consultation.