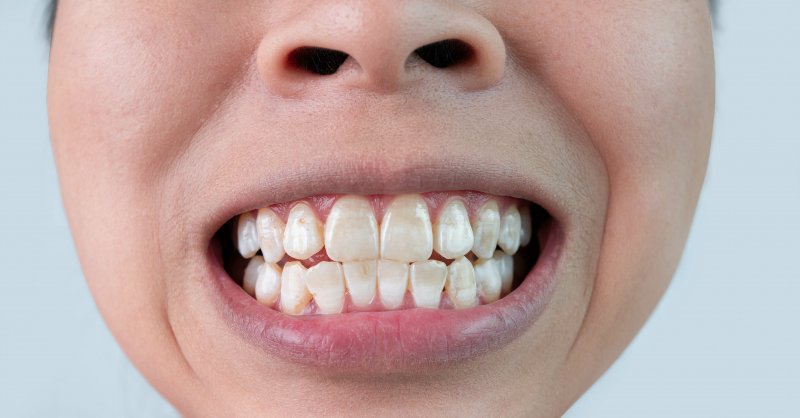 Compared to plaque buildup and yellowing, white spots might not sound like a typical teeth issue. However, it's a more common cosmetic problem than you'd think. You might even have these white spots on your teeth right now.
Luckily, cosmetic dentists have ways to get rid of them. Read on to learn the causes of white spots on teeth and how professional treatment can help!
White Spot Causes
White spots don't have a single cause —they have several possible origins, including bacteria, fluoride, and diet.
Bacteria
Bacteria often grow to excess in acidic environments like mouths, especially when you eat and drink acidic products. It then clings to dental surfaces and damages tooth enamel, producing white spots.
It only takes twelve to fourteen hours for plaque to build up enough to support bacteria growth. Remember to brush and floss your teeth daily to keep that from happening.
Fluoride
Exposing your mouth to excessive fluoride can cause white spots on your teeth. The technical term for this is fluorosis, a condition that usually occurs in children when their teeth and tooth enamel are still forming. It usually stems from drinking too much fluoridated water, swallowing fluoride toothpaste, and taking certain medications.
Your Diet
Your diet can also cause white spots on teeth. Because calcium is the foundation of healthy teeth, diets low in calcium-rich foods weaken tooth enamel and cause spots to develop. For instance, not having enough cheese, almonds, or leafy greens can lead to calcium deficiency. The resulting weakness in enamel is aggravated by acidic and sugary food that leads to tooth decay.
Professional Treatments for White Spots
Cosmetic dentists offer treatments that can hide or erase white spots from tooth surfaces. They include the following:
Enamel Microabrasion: A microabrasion treatment uses mechanical means to whiten your teeth. With tools like a rotary mandrel, your dentist will remove a small amount of enamel from the affected teeth to reduce the appearance of white spots.
Teeth Whitening/Bleaching: To whiten teeth, dentists employ professional teeth whitening using chemicals like hydrogen peroxide. In particular, a dentist will use stronger bleaching solutions than those available OTC for a more effective process.
Composite Resin: Resin treatments are great for people with enamel hypoplasia. In them, the dentist applies composite resin to fill in cavities and bond the outer enamel of teeth.
Dental Veneers: Dental veneers are thin, protective coverings that can conceal staining, cracks, and white spots. They're only available from dentists and must be professionally fitted.
White spots on teeth aren't discussed much, but they can still prove troublesome. That said, contact your dentist so you can smile again with confidence!
About the Practice
American Dental Care is based in Conway, SC. Headed by Dr. Tommy Murph, a Medical University of South Carolina graduate, their team offers comprehensive dental services for all ages. Whether preventive, cosmetic, or restorative dentistry, they're ready to meet almost any patient's need. The practice also offers Saturday appointments and emergency dental services as an added convenience. For more information or to book an appointment, they can be reached at their website or by phone at (843)-488-4357.